| | |
| --- | --- |
| | Search Me Now |
Search Me Now allows you easily search pages of any website, whether it has a search engine or not!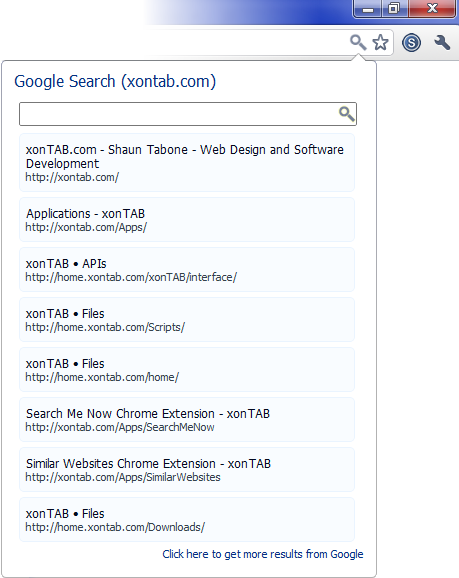 Search Me Now allows you the search any website with a simple click of a button. This extension uses both Google Search and the site's built-in search to find the page you need.

Currently, Search Me Now utilizes the OpenSearch description format (http://www.opensearch.org/Home) to find information using the website's built-in search engine. This means that this extension works out-of-the-box with a number of popular sites (search engines) such as YouTube, Wikipedia and CNN.com.

Unfortunately not all websites make use of this technology and thus some websites currently do not work with this extension. If you encounter such websites please make sure that you report them.

Latest Updates
| | |
| --- | --- |
| v1.2 | Simplified UI, Added more Search Results |
| v1.1.5 | Added native support to eBay, Blogger (Blogspot), Facebook, Twitter, IMDB |
| v1.1 | Added Keyboard Shortcuts, Added More Results button, Added native support to some reported websites |
| v1.0 | Initial Version |